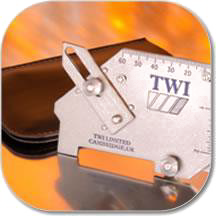 An essential tool for rapidly checking the dimensions of weld preparations, butt welds and fillet welds:
angle of preparation
misalignment
fillet weld leg length/excess weld metal
fillet weld throat
undercut
This tough, easy-to-use gauge is made from stainless steel throughout and finished to a high standard. Its parallax-free scales are conveniently graduated in metric and imperial units.
Ideal for general fabrication work in the shop or on-site, it helps you achieve the correct weld profile, reduce the risk of product failures, increase productivity and prevent materials wastage. Supplied complete with protective wallet and illustrated instruction card.
Welding Gauge Data
Overall dimensions when closed: 100 x 68mm approximately
Misalignment, fillet weld leg length, excess weld metal scale: 0-25mm, 1mm divisions (also 0-1 inch, 1/16 inch divisions)
Angle of preparation scale: 0-60°, 5° divisions
Fillet weld throat scale: 0-20mm, 1mm divisions (also 0-3/4 inch, 1/16 inch divisions)
Undercut scale: 0-4mm, 1mm divisions (also 0-3/16 inch, 1/16 inch divisions)
Please note that the Welding Gauge is intended for general dimensional inspection of welded fabrications where close tolerances are not expected. It should not be compared in precision with gauges used for measuring machined components and, where a high degree of accuracy is required, machine shop type measuring instruments will need to be used.
Price: € 80,00 excl. VAT
Please be informed that all mentioned, offered and given Prices and Course Costs are subject to change. We therefor ask you to contact us for the correct Prices and Course Costs.