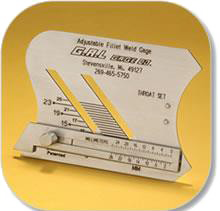 Unequal Leg Measurement Feature used to:
Measure fillet welds by placing irregular curve edge flush to horizontal toe of weld so the straight edge is in line with the horizontal member.
Measure weld throat thickness by placing the 45° angle end flush to the horizontal and vertical members. Loosen the thumb screw and slide the pointer until it touches the face of the weld
Price: € 87,50 excl. VAT
Please be informed that all mentioned, offered and given Prices and Course Costs are subject to change. We therefor ask you to contact us for the correct Prices and Course Costs.